NEW DELHI: Hospital
admissions
of severe acute respiratory illness (SARI) and influenza like illnesses (ILI) cases under government's health insurance scheme Ayushman Bharat have shown a flat graph in the last three months since January when India reported its first confirmed case of Covid-19, providing evidence that the wider community
transmission
is yet to begin in India despite hotspots and clusters.
Ayushman Bharat data is one of several indicators such as sale of drugs for flu-type illnesses and reporting of such cases in OPDs, clinics and hospitals that the government is closely monitoring to see if there is a spike that suggests a wider Covid-19 transmission that has escaped notice. In a step up of testing, ILI cases are being scanned for Covid-19, while the Ayushman numbers are also providing valuable information.
Data from
National Health Authority
(NHA) shows the number of SARI & ILI admissions in both public and private hospitals together increased by just 8.6% between January and February and thereafter declined in March by 5.4% and 12.9%, as compared to the previous two months.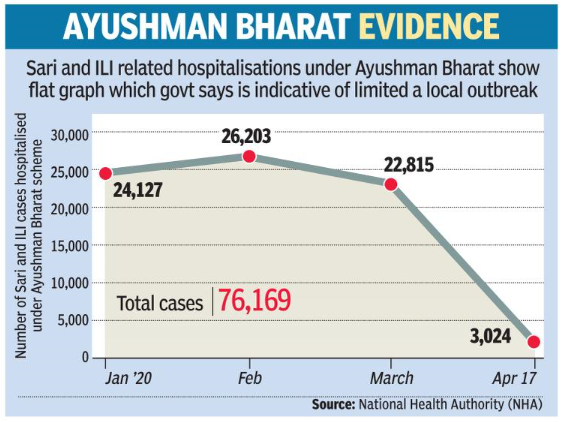 "The fact that there is no significant surge in SARI and ILI hospitalisation indicates that there is no massive undercurrent of an outbreak. It rather confirms that on a national scale Covid-19 outbreak is limited and not out of control," said NITI Aayog member Dr V K Paul.
"The data doesn't show any spurt and is supportive of the hypothesis that there is no community transmission," says Indu Bhushan, chief executive of NHA.
More on Covid-19
While SARI and ILI cases are a key indicator to determine whether there is community transmission of Covid-19 in India, the flat curve and in fact a drop in such admissions in March could be suggestive that there is only limited local transmission in some areas with higher intensity in the country, senior government officials say.
In January, when government started initial screening for Covid, there were 24,127 hospital admissions for SARI and ILI under the government-run health insurance scheme. After lockdown was imposed, the number of hospitalisations dropped to 22,815 in March and 3,024 in April so far.
The private sector accounted for around two-third of the total hospitalisation.
According to Dr Paul, the lack of growth in SARI-related hospital admissions also shows that most cases are mild and therefore, did not require hospitalisation. The health ministry has maintained there is no evidence of community transmission of Covid-19 so far. However, as cases started increasing, mainly after the spread through Tablighi Jamaat members, many raised concerns about a larger outbreak.